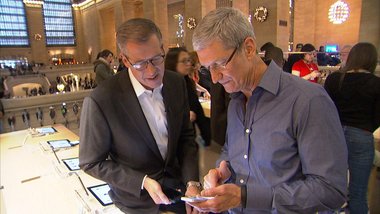 NBC News
Rock Center's Brian Williams (left) and Apple CEO Tim Cook look at an iPod. Williams interviewed Cook, which will air Dec. 6, 2012 on Rock Center at 10 p.m.
Apple will boost its dividend by 56 percent to please and attract investors, according to reports.
The tech titan could raise its quarterly dividend to $4.14 a share, or an annual $15.7 billion, Bloomberg News reported. The rumor comes as a Apple chief Tim Cook deals with pressure from investors like David Einhorn's Greenlight Capital that are pushing for cash payouts.
"The accumulation of cash has become excessive," Brian White, an analyst at Topeka Capital Markets, told Bloomberg. "It doesn't matter which bearish scenario you forecast, they're never going to need this much cash."
Analysts predict a dividend of $3.31 to $5.30 a share, according to Bloomberg. And at least one analyst said that Cook should step down. "There has been almost a $300 billion decline in value of this company," said analyst Laurence Balter. "Any CEO at the helm of any U.S. or international company that sat at their desk idly while this happened would be shown the door."
The last time a dividend was given
in November
investors went into a buying frenzy which also buoyed share price. As one analyst said, "You need to attract new investors, and I think one way to do that is to pay out a bigger dividend."