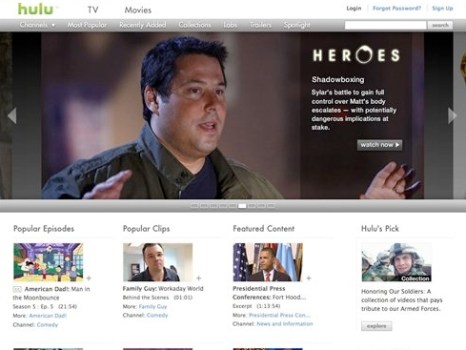 AP
In this Nov. 11, 2009 file screen grab, the home page of Hulu.com, is shown. Online video site Hulu has launched a $9.99-per-month paid section, under pressure to generate a profit from its media company parents.
The allure of Google's billions wasn't enough to get Hulu to stream a deal with the Mountain View giant.
The video-streaming site said Thursday it has ended talks to sell its business to suitors, some of whom had been rumored to be Google and Dish Network.
"Since Hulu holds a unique and compelling strategic value to each of its owners, we have terminated the sale process and look forward to working together to continue mapping out its path to even greater success. Our focus now rests solely on ensuring that our efforts as owners contribute in a meaningful way to the exciting future that lies ahead for Hulu," the company said in a statement.
The search company reportedly had offered up to $4 billion for the company on the condition that Hulu could provide two more years on its existing television contracts.