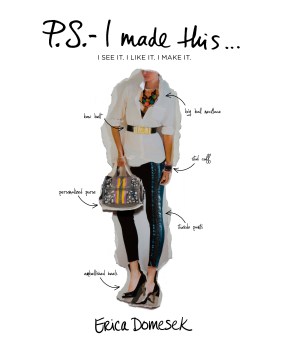 Abrams Books
P.S. - I Made This by Erica Domesek, in bookstores this September.
GET YOUR GLUESTICKS GIRLS: DIY blogger extraordinaire, Erica Domesek, is finally bringing her step-by-step projects to print for her first book, P.S.- I Made This: I See It. I Like It. I Make It. From Cartier Love-esque bracelets made with hex nuts and key rings to an ode to Oscar de la Renta in the form of an iPad clutch made from a travel pillow, Domesek's fashion savvy blog, which runs under the same name, keeps us feeling crafty and inspired. We've seen sneak peek and to sum it up: more than 24 projects, from a big gold bow belt that screams Ferragamo to a clear, geometric statement necklace that really "measures" up, all vividly illustrated by Domesek in this 180-page pocketbook size book. P.S. We love you.
BUY IT: Find P.S.- I Made This: I See It. I Like It. I Make It. in stores starting Sept. 1, from Abrams Books.