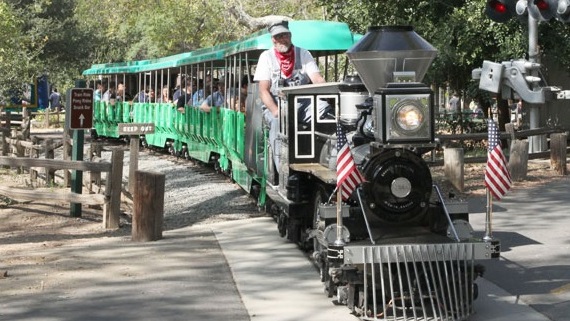 Irvine Park Railroad
Irvine Park Railroad in Orange celebrates its 18th with two-dollar train rides, a nod to its opening 1996 prices.
HOW LONG AGO? Forever and always, truly, we'll be fans of the rollback pricing anniversary event. We mean, who isn't a fan of a beloved spot returning to its very first admission price in honor of a big birthday? Because, spoiler alert: Prices in the past tend to be less than they are now. Of course, everything is relative, and when we hear how much something was a few decades ago, it takes a moment to set that amount against other prices of the day. So enjoying a rollback, in a modern era, is even a little sweeter, even if the less-than-sweet part is realizing that 1996 happened eighteen years ago. What? We'll just take another moment to let that realization set in. Now that it has, it is time to don our handy conductor's hat and overalls and lay tracks for Irvine Regional Park in Orange, where the Irvine Park Railroad will celebrate its big 18th on Saturday, Feb. 22 and Sunday, Feb. 23. Celebrate with, you betcha, those nice 1996 prices.
WHICH MEANS... two-dollar rides on the park's sweet, kid-nice train. It's a really pretty park, too, with lots of shade and other kidly to-dos, so if you haven't been, and you have young'uns in tow, go. This is the outdoorsy, activity-filled old-school spot you likely long for when you want an easygoing day out a park with a few fun-producing extras. Several foodstuffs shall be marked at $2, too, in case you want to make an afternoon of it and chow down in the park. Yep, you might know Irvine Park Railroad in the fall, when all of the pumpkins are out, or at the holidays, when Santa visits, but springtime, or near springtime, is kind of ideal. That the railroad has its birthday just about then, and rolls back the prices to 1996, is just a great extra. Seriously, though, you have a conductor's hat, right?