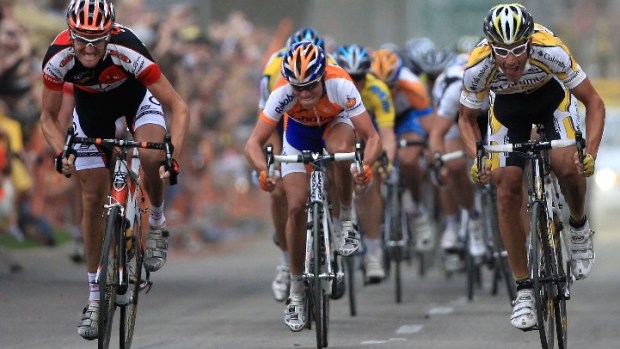 Getty Images
A look back at Stage 8 of the 2009 Amgen Tour of California.
AMGEN BIG: We're not huge fans of following up a factual statement with the semi-sassy "any questions?" but we feel compelled to do so in this case. We're about to talk about the Amgen Tour of California, which is "(t)he largest cycling event in America." Any questions? See, it totally works there. You know this springtime cycle spectacular. You are well aware it happens in several stages throughout the Golden State. You comprehend that the biggest names in cycling superstardom tend to show. So the "any questions" is not sassy in this case but completely fitting.
MAY 15-22: Stage One is South Lake Tahoe to North Lake Tahoe; well, that should be pretty and challenging and everything you want out of a major cycle event. Stage Eight wraps the whole kaboodle up near LA (route: Santa Clarita to Thousand Oaks). And along the way? Sacramento, Livermore, Modesto, and Mt. Baldy are just some of the spots the speedy cyclists will zip on through. Catch up on the stages here, and find out if the world's top bike stars will be passing through your neighborhood.