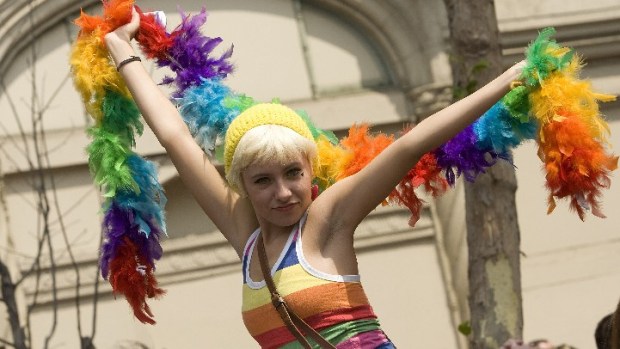 Getty Images
The 2011 San Francisco Pride is on Saturday, June 25 and Sunday, June 26.
MEGA CELEBRATION: The name has changed a few times over the years -- revelers may remember Christopher Street West and Gay Freedom Day as two of its handles -- but the San Francisco Lesbian Gay Bisexual Transgender Pride Celebration has remained a robust must-attend on the calendar, for both locals and people traveling from points all over. Why? Probably for many reasons, for sure, but San Francisco Pride is the largest pride celebration in the nation. The party turns 41 in 2011 with a two-day confab centered around the Civic Center, but hundreds of events will be happening around the city from GLBT History Museum to the LGBT Community Center to Market Street and Beale, where the parade steps off on Sunday, June 26.
DATES AND DETAILS : Pride weekend is Saturday, June 25 and Sunday, June 26. There are many other events beyond the massive Civic Center gathering -- brunches, talks, a cooking demo for LGBT families, and much more -- so you'll want to eye what's happening where. Olympia Dukakis is a grand marshal, which we're especially stoked about. Mrs. Madrigal from "Tales of the City"! Oh yeah. Chaz Bono is also serving as a grand marshal, and there are several celebrity guests set to attend as well. Look for writer Dustin Lance Black and actor Jeremy Ray Valdez, as well as a host of performers like Taylor Dayne and Cheer SF.