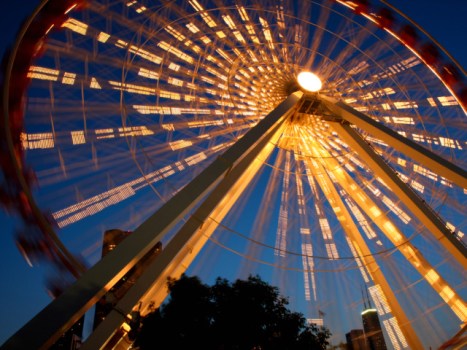 Shutterstock
Rides, fried treats, and concerts? They're summertime staples but a wintertime favorite in Riverside. The county fair opens on Friday, Feb. 17.
FRUIT AND WINTER: While there are hundreds of county fairs around the nation, not every one of 'em can claim something unique or special (okay, we're not talking about you, county fairs that regularly display the World's Biggest Strawberry or the World's Orange-iest Pumpkin; you get your props). It can be hard to stand out in that crowded, historic field, is what we're saying, and having two major things going for you? Nearly unheard of. Sure, LA County Fair happens to be the country's largest, and the one in Ventura happens to be right on the ocean, but the Riverside County Fair has two braggable points (among many, really). One? It happens in February each year which, if you haven't noticed, tends to not be a huge month for county fairs (think July, August, September). And two? It coincides with another major event, the National Date Festival. Call it two mondo to-dos, one on top of the other.
THE 2012 PARTY: It opens on Friday, Feb. 17 and midways right through Sunday, Feb. 26. On the big stage? Leann Rimes, Hot Chelle Rae, Uncle Kracker. Queen Scheherazade, who was crowned in November, may make an appearance with her court. And there are family rides and booths and animals to visit, too. It's all on in Indio.