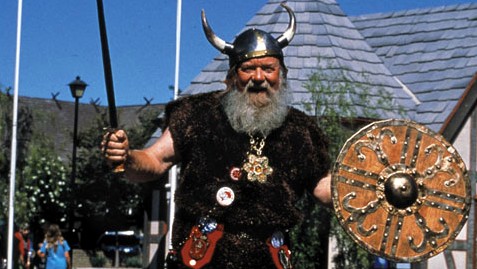 SolvangUSA.com
The 2011 Danish Days happens from Friday, Sept. 16 through Sunday, Sept. 18.
AUTUMN SIGN: We often ponder the changes of seasons around Southern and Central California. No, we don't have hillsides full of maples but we do have a new TV season that tells us September is here. Oh, we're being cheeky, of course; there are many signs of fall 'round these parts. And one of our very favorites? Seeing the Viking photograph. You know the one. It shows up every year. When we see the whiskered man in the horned helmet, we know that the time is nigh for Solvang's annual Danish Days. Which means it is autumn, or nearly. It's a cheery sight, and a sight that says merrymaking and pastries and traditional dancing and such is straight ahead. And indeed those things are: The 75th Annual Danish Days is on from Friday, Sept. 16 through Sunday, Sept. 18.
ON THE SCHEDULE: A torchlight parade on Friday evening. An aebleskiver and Danish sausage breakfast on Saturday morning. Oh, an aebleskiver-eating contest later in the day. And a parade. There are several to-dos on the calendar. We'll also point out that Vintages Week is also kicking off around Santa Ynez, meaning that if you do make the trip and you like wine you'll want to check it out. And if you do see the jovial man in the horned helmet and skirt? Wave hi for us. Truly, he says fall is just ahead here in the Golden State.