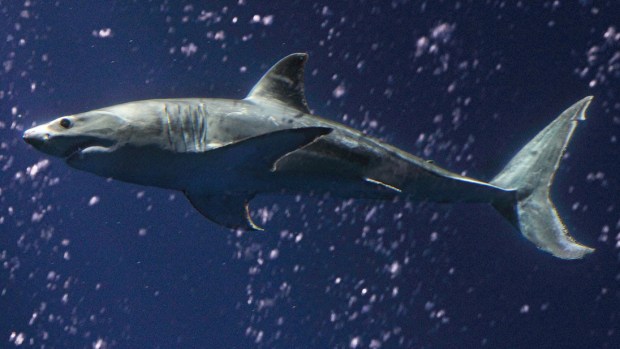 Monterey Bay Aquarium
The Monterey Bay Aquarium has announced the ocean release of its young great white shark.
GREAT WHITE GOODBYE: When the young male great white shark swam into the Monterey Bay Aquarium in late August, he became an instant celebrity. After all, great white sharks and aquariums don't often mix (and, by the way, when we say "swam into" we mean via ground transport; he actually hailed from the waters of Malibu). So the aquarium sent the call far and wide and the call was this: If you want to see a great white close-up, make haste, since we don't know how long he might be here. Turns out the shark was on exhibit for just under two months. He's now been returned to ocean, for various reasons. Official word is that the decision to release the shark came after observing changes in how he navigated the exhibit in recent days.
BUT THE STORY ISN'T OVER: The shark left the aquarium's care with a pop-up tag. The tag'll track his movement and water temperature and such for the next 180 days. Then? The tag literally pops off. The information will return to terra firma via satellite. And don't feel down if you meant to get to the aquarium to see the shark; he was the sixth great white to pay a call at the Monterey institution. Surely it can't be long before another powerful, sleek-finned beauty makes a brief and important stop-by.