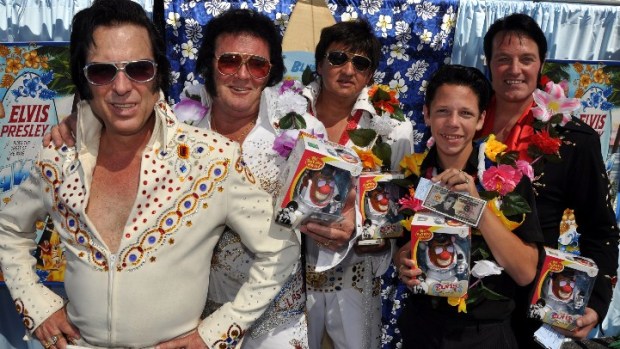 Orange County Marketplace
Orange County Marketplace celebrates Elvis in Hollywood on Sunday, Aug. 21.
POMPADOUR PARTY: Granted, Elvis Presley had some tear-summoning tunes, but when we think of The King we're instantly cheered. The icon is a mood-lifter for several reasons, of course, but we always remain impressed that the life of Mr. Presley can be celebrated in multiple ways. For instance, a whole celebration can be devoted simply to his Hollywood career, rather than his music or Graceland or his youth (of course, there's crossover with all of those things, no doubt, but still, it's impressive). The Orange County Marketplace in Costa Mesa will be feting The King's Tinseltown stint with a full day of Elvis gussing-uppery, Cadillacs on view, and a performance of movie medleys.
THE KINGLY DETAILS: The date is Sunday, Aug. 21 and admission is two bucks. A lot of people'll be going the white spangly jumpsuit route -- bet on it -- whether they're slated to perform or not (we like to see people dressed as Elvis sitting in an audience while someone dressed as Elvis performs). Hula dancing is also on the roster, which fits the Kingly movie theme. We'll also note that it is the 12th outing for this particular Elvis party, so if you like it, bet it'll be back next year, and next, and next. Note that links are pdfs.