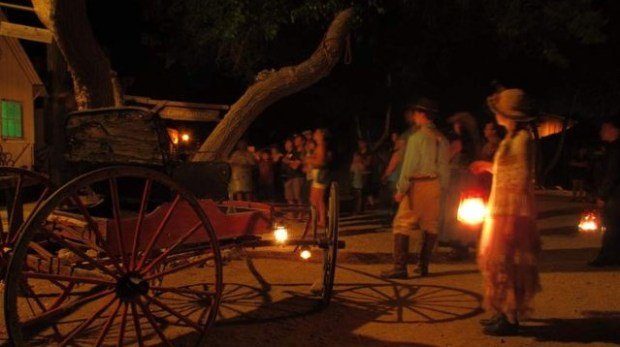 Silver City Ghost Town
Go on a search for ghosts in Silver City on Friday, Oct. 26, Saturday, Oct. 27, or Halloween night. Your light? Lanterns.
RUSTIC ATMOSPHERE: While Southern California boasts some famous said-to-be-haunted spots, those venues tend to be located near or in our bigger cities (Whaley House, Hollywood Roosevelt Hotel, Hotel del Coronado -- we're looking at you). But there is a quintessential ghost town a few hours north of Los Angeles that fits the bill, in looks and spirit, of Old West Atmosphere. Emphasis, of course, on "spirit" in that last sentence; Silver City Ghost Town is said to possess a few of 'em. And while people regularly visit the Bodfish-based Kern County outpost to snap photos of the picturesque wooden buildings, many visitors are there due to its paranormal reputation. That will be on full display on Wednesday, Oct. 31, as well as a few nights on the weekend prior to Halloween, when town curator J. Paul Corlew goes searching for things that go bump, or at least make you shiver, in the night.
GHOST TOWN TOURS: The nights are Friday, Oct. 26, Saturday, Oct. 27, and, as mentioned, Halloween. Ghost sightings will be discussed, as well as legends surrounding the long-toothed town. A few paranormal groups will join Mr. Corlew at the head of the tour on various nights, so the stories are sure to be colorful and varied. (There was a local Silver City character called Wormie Annie, so bet she'll make a cameo, at least in the tales told.) Cost is twelve bucks, and if the idea of walking around a ghost town by lantern light tempts you, know that these are the last after-dark tours for the next six months. Yep, you'll need to get to Kern County, but we like the idea that the scares of SoCal are not simply centered around the cities. There's a charm to the Golden State's rugged, wicked past and the towns that remain.