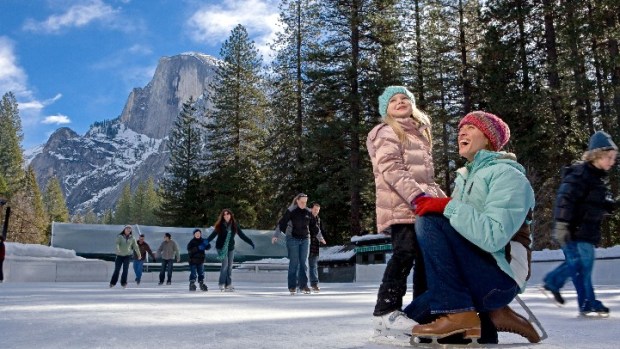 DNC Parks & Resorts
Ice skating with Half Dome as a backdrop? That's about as epic as rinks come.
STUNNING SETTING: When you think ice rink, what do you think? We think of a snack counter selling licorice, of classic arcade machines standing over by the lockers, of a rental counter that's covered in band stickers (put there by employees who moonlight in cool bands, of course). There might be a strobe light or two, and some '80s tunes rockin' the speakers. Call it Ice Rink Classic, or Ice Rink Chic, if you prefer, but it is a real slice of Americana that millions of people have experienced over the last few decades. Now picture an ice rink that is not indoors but out. Picture it in one of the most famous valleys in the world, if not the most famous valley. Try to see Half Dome, that epic granite wonder, to one end, and rock climbers scaling huge cliff faces across the way. You are definitely not in an ice rink but a place that was formed partially due to ice. Epic ice, as in ancient glaciers. You're in Yosemite, at the seasonal and sweet Curry Village Ice Rink.
HISTORY ON ICE: Beyond the rink's rather remarkable, one-of-a-kind national park setting, there is history: The Curry Village Ice Rink was founded in 1928, long before a lot of our city rinks. We also like the hot beverages and treats for sale nearby; all of that forest air has a way of stirring the appetite. In another old-school move, the concessions at the rink sells s'mores makings, and there's a fire pit close at hand. It's incredibly charming and it is open now. Open daily, we should add, weather permitting, through the first part of March.