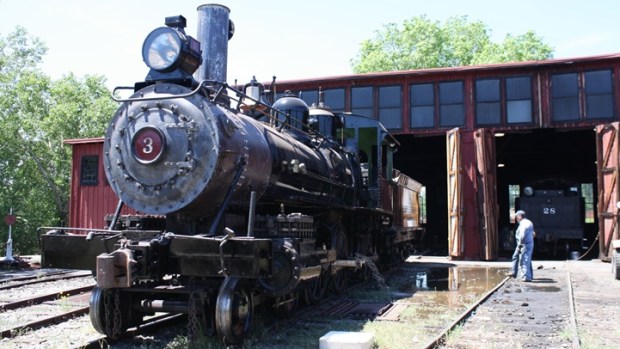 Sierra No. 3
Sierra No. 3 -- the "Movie Star Train" -- will start its 2013 season on Saturday, April 6. Where to find it? Gold Country.
FAMOUS TRACKS: You can build a lot of worlds on a movie studio backlot courtesy of some paint, some set-dressing, and, more frequently these days, some crafty CG. But film companies haven't yet fully mastered constructing and maintaining trains and train tracks for their regular use. If a train is in a movie it is probably shot on location (we're of course not taking about train cars, which can be replicated inside a soundstage). And one of the first trains to achieve starlet status on the movie circuit? The Sierra No. 3 in Jamestown. It does, in fact, rock a pretty lofty nickname: The Movie Star Locomotive. "Petticoat Junction" used it, as did a whole slew of Golden Age Westerns (meaning California's own Gold Country stood in for Texas and Arizona on more than one occasion). More recent forays onto the big screen include "Unforgiven" and "Back to the Future III." When an engine has been around for a good long while, and done an impressive amount of work, one might expect to see it house in a museum and permanently off the tracks. But that's not the story for one of our state's most long-lived steam-era gems: Sierra No. 3 runs each and every year, and is set to kick off -- or puff off? -- its 2013 season on Saturday, April 6.
GOLD COUNTRY RUN: The locomotive makes a six-mile journey -- call it a loop of sorts -- into Gold Country. The whole ride takes 45 minutes. The Sierra No. 3 will run Saturdays throughout the summer and into September, while vintage diesel rides'll run on Sundays. If your heart is set on steam, best check ahead before making for Jamestown's Railtown 1897 State Historic Park. It is a gas -- or, erm, steam -- to ride aboard a train led by an engine from the 1800s, but figure this is also a good chance to see some of the western Sierra's back country, places you wouldn't normally go without your auto. So much of it looks the same as when the Sierra No. 3 first ran back in the 19th century.