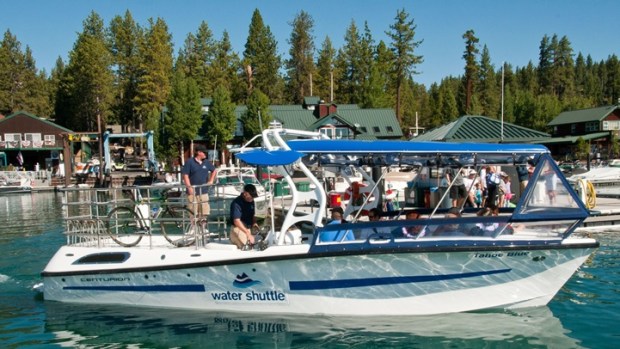 North Tahoe
The North Lake Tahoe Water Shuttle is one refreshing way to get around, via water, come the busy summertime.
ONE BIG BILLING: If you love Lake Tahoe, and let's assume correctly that you do, because everyone does, and those who do not haven't been there yet, and maybe even they love it, from afar, but anyway, if you love Lake Tahoe, we're going to guess that you frequently say its name -- "Lake Tahoe" -- and the immediately evoke its rather impressive billing: "the largest alpine lake in North America." Because we often cannot say "Lake Tahoe" without adding the second bit. Example? Friend: "Where are you going this weekend?" Us: "Why Lake Tahoe, the largest alpine lake in North America!" See? You have to add it. Because being in the largest alpine lake in such a huge area is major. (And we know, there are much larger lakes -- helloooo, Great Lakes -- but "alpine" is key here.) And when something is rather huge and rather watery, you have a couple of choices in the transportation department. One? You can drive or bike or walk around it to get to your next destination. Two? You can swim through it (but factors play in, like if the water is cold, the distance, and whether swimming is permitted).
AND THREE...? You can hop on a boat. North Lake Tahoe happens to have such a boat, the Water Shuttle. The 30-foot vessel runs during the summer months, through Sept. 22, and zips tourists and locals alike to different points, such as Tahoe Vista and Carnelian Bay. There's a rack that can hold up to eight bikes -- hooray! -- and room for a dozen passengers. Jan Colyer, executive director of the Truckee North Tahoe Transportation Management Association, calls it "a unique and spectacular transit option," an option that gives passengers new views of the mountain range and 72 miles of shoreline. The upshot? If you have to get from point A to point B in the warmer months, and you're in North Lake Tahoe, a shuttle trip will both get you there and provide you some lovely out-on-the-lake time. A one-way rate for an adult is ten bucks.