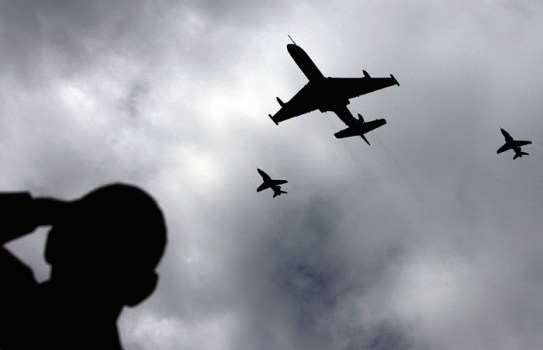 Getty Images
Wing buff? Love films with flight? Make for Planes of Fame in Chino on Saturday, Jan. 4.
FROM THE CINEMATIC START: We'd be the 11,987th person to observe that aviation and moving pictures ramped up at juuuuust about the same time. "A Trip to the Moon," one of the famous films that galvanized the age of the cinema, arrived just over a year ahead of the Wright Brothers' winging over Kitty Hawk (that would be 1902 and 1903, respectively). And ever since? The picture show and the air show, or planes in general, have been as tight as three pilots squashed into an old-school two-seater. First movie to win the Academy Award, back in '27? Yep, it was "Wings." How about movies that have used planes for aerial shots? Um, like every fifth movie ever made. How about movies about planes? We're looking at you, "The Aviator" and, yes, "Airplane!" and "Always," too. (Lest you think they all begin with "A" there's also "Snakes on a Plane," of course.) It's a rich history, in short, and Planes of Fame in Chino will consider cinema and flight on Saturday, Jan. 4 during its "Aviation in the Movies" presentation.
Q&A AND A FLIGHT DEMO, TOO: Author Mark Carlson -- he wrote "Flying on Film: A Century of Aviation in the Movies, 1912-2002" will speak, along with retired Lieutenant Colonel Robert J. Friend, a fighter pilot for the Tuskegee Airmen in World War II. "A P-40 will be on display and perform a flight demonstration," too. Interesting stuff if you're into films, planes, or both, which we suspect a whole lot of people are. But, truly, who wouldn't be? Few shots in a movie are more challenging than those filmed in mid-flight, and yet the visual payoff cannot be matched. The industry owes much to aviation, its long-time partner in aerials and awe-inspiring stories of flight and courage.