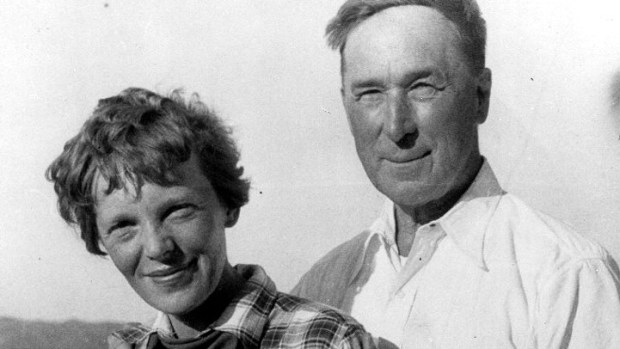 William S. Hart Ranch
Eye photos of Amelia Earhart at a new exhibit at the William S. Hart Ranch in Newhall.
SKIES OVER HOLLYWOOD: Aviators and Tinseltown go way back. Howard Hughes famously dipped a toe in both interests, as did many people back in the day (and, honestly, probably still do). Movie stars owned planes or took flying lessons and pilots got work as stunt performers on adventure movies. What this all adds up to is that there were a lot of friendships formed, like the famous one between silent screen cowboy William S. Hart and one Amelia Earhart (that is the duo, pictured together in 1934). So it makes total sense that the screen legend's former abode, the William S. Hart Ranch and Museum in Newhall, would run an exhibit featuring Earhart-related items and other artifacts that recall the early age of aviation. "Taking to the Skies: Aviators at the Hart" opens on Wednesday, June 13.
IN THE SHOW: An Amelia Earhart doll and the flying helmet and gloves of early aviatrix Bobbi Trout. Don't you miss the day when pilots donned flying helmets? Well, perhaps not, since many of those pilots steered open-air bi-planes. But as a fashion statement? They can't be beat. There will be more flying-related goodies at the ranch, so get up there if you have a plane fascination. And as you drive through the Valley to Newhall also remember that so many plane stories and runways and characters arose from a several stretches around the San Fernando. LA's history is both about planes and the movies, which is pretty nifty indeed.