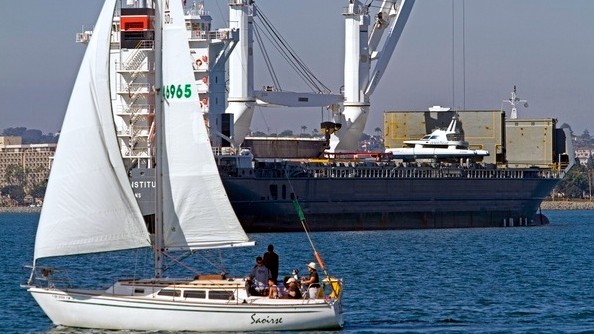 Bob Grieser
America's Cup sails into San Diego from Saturday, Nov. 12 through Sunday, Nov. 20.
FIRST OF ITS KIND: There's a lot of talk about America's Cup throwing anchor in San Diego from Saturday, Nov. 12 through Sunday, Nov. 20. The fact that it is "the first America's Cup World Series event to be held in the United States" is certainly a headline. The fact that stars of the international sailing scene will be setting up shop in San Diego Bay is certainly garnering buzz. And the fact that yacht fans from all over will be descending upon the city to watch is pretty much a given. So, in short, is it big? Why goodness yes, it is. If you yourself won't be operating one of the sleek catamarans set to race, you can watch from nearby. As course maps go, this is just about the clearest and most helpful we've come across. Take a look.
AC VILLAGE: Call it the HQ for the action. Public viewing is at the end of Broadway Pier, while various team bases will occupy Navy Pier. If you can't make San Diego during the week-plus, you can probably make San Francisco, which will host a whole oodle of America's Cup events in both 2012 and 2013, including the finals and Louis Vuitton Cup.