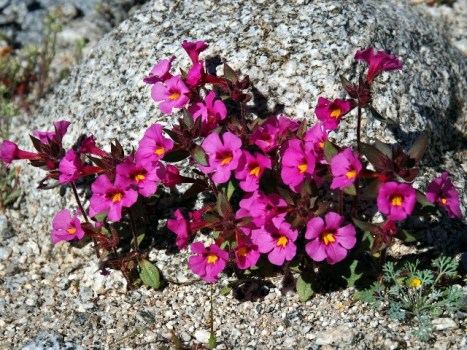 Judy Kramer
A Bigelow's Monkey Flower in the Anza-Borrego.
TIMING: Anyone who knows their Southern California deserts knows that attempting to hold them to any sort of calendar is a fruitless endeavor. Because, deserts tend to be vast and ancient and ruled by weather and time and not the latest time-keeping app. But March-ish tends to be a fine time to check out wildflowerishness in places like Anza-Borrego Desert State Park. In fact, the park itself says "early March" is a fine time to visit for some flower action.
THE LATEST: The park says it "does not expect a dramatic display of desert sunflowers and sand verbena" north of Borrego Springs, but that blooming is underway. If you're thinking of Anza-ing it, then, perhaps making a mid- to late-March trip is in order. Above all, keep an eye on this page.