worth the drive
Apple Days Blossom in Oak Glen
Fruit fans: Ready yourself for three months of u-pick, homespun to-dos, and cider donuts.
Sunday, Aug 31, 2014 • Updated 9:52 AM PDT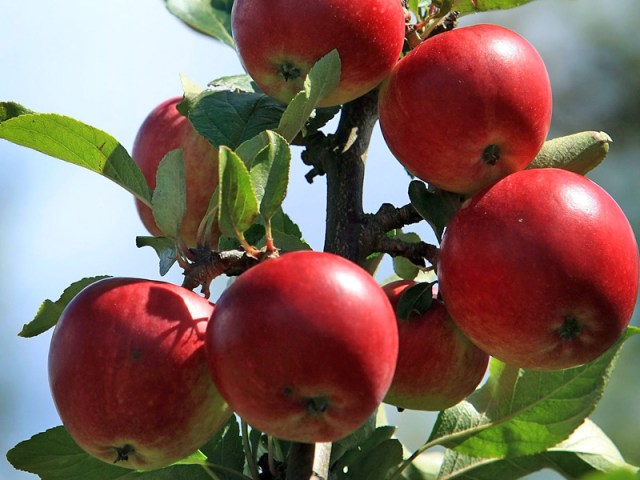 Getty Images
Apples are the famous foodstuff of Oak Glen. Want to pick your own? Apple-y times run from September to November. (Photo by Christopher Furlong/Getty Images)
4,000 YEARS FROM NOW... should we humans colonize other parts of the galaxy, and if we set up new schools on faraway planets, worlds with their own distinct vegetation and atmosphere, one fact will still hold true: Apple posters and cut-outs will decorate our children's classrooms. Right? It doesn't matter what new fruits we discover or the strange gifts that the passage of a lot of time brings. Apples are iconic come the start of the school year, and September isn't September without seeing several cheerful cartoon Fujis or Golden Deliciouses bedecking the inside of a schoolhouse. In short, they're instant signifiers of back-to-school days. But back-to-school days also mean Apple Days in a few Southern California communities, including one that's so apple-famous that it observes its apple-y associations for a full fourth of the year. We speak of Oak Glen, of course, and the months? You guessed 'em: The apple season for the north-of-the-10-freeway burg kick off in September and last all the way through the end of November.
WHAT THIS MEANS: The apple ranches offering U-Pick -- yep, you go in and choose the apples you want right off the tree and get 'em down yourself -- will be in full sweet-flavored swing. Snow-Line Orchard opened in August, Wood Acres gets the U-Pick-ing going in September, and other spots around the hilly burg'll be ramping up if they are not already ramped up. Have one in mind? Peek to see its specifics before loading up the station wagon with your favorite apple people. But the fall isn't just about loading up paper bags with juicy orbs -- craft fairs and music and apple pie-eating and cider donuts are other Oak Glen staples, so calendar-up now if you want a slice of all of that quintessentialness. So, two true things: Apples + school decorations, forever and ever. Period. And two? Cider donuts may one day trump all other pastries as the Greatest Pastry Ever. Consume one, or a half dozen, under a turning tree come November and see if you don't agree. (Prediction: You will.)
Copyright NBC Owned Television Stations