worth the drive
Bee There: Comic-Con International
The solar system's biggest pop con phenom sets up shop in San Diego.
Friday, Jul 18, 2014 • Updated 6:56 AM PDT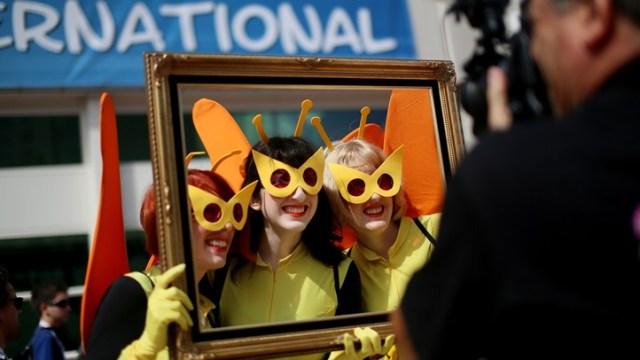 Getty Images
Attendees pose for pictures at Comic Con on July 19, 2013 in San Diego, California. The 2014 convention opens on Thursday, July 24. (Photo by Sandy Huffaker/Getty Images)
BIGGEST, MEGAEST, HUGEST: There are a number of "gets" in the entertainment-obsessed world of fandom. The autograph of every Avenger, a photo with Stan Lee, a visit to the "Community" set, an actual prop from a "Harry Potter" film. Whatever your taste, your fancy, or your interest, the bar has likely been raised fairly high when it comes to showing your fanship. But what of fans of Comic-Con? Surely the world's largest and most buzzed-over fan convention has a few hardcore, need-to-do-and-have-everything fans of itself. Are there those people who attend the July-busy, San Diego-based extravaganza just for the sake of being at Comic-Con and no other reason? We'll wager those attendees are plentiful. But what are the "gets" here? Sitting front row at every panel? Talking with every artist? Meeting every surprise guest? Whatever your must-do list contains for the huge-huge-really-huge convention, it is good to go in with some realistic expectations and one or two pie-in-the-sky dreams. Maybe you will get into your favorite TV show's panel, if you line up early.
AND THOSE LINES SHALL START... well, one might say on Thursday, July 24, which is opening day of Comic-Con, but fans tend to show early and prepared. They have maps and have downloaded the apps, which will tell them know that animator Willie Ito, artist David Lasky, and con favorite Mark Evanier will all be in attendance. "The Simpsons" will get a 25th anniversary celebration, "Bloom County" visionary Berkeley Breathed'll be in the house, and the Teenage Mutant Ninja Turtles'll raise a slice of pizza to their big 30th birthday. Plus? Everything else ever. Oh, we josh: Comic-Con does not contain everything else ever in terms of entertainment, but it makes a completely legitimate and successful go at it. For sure, any big movie or big comic book or big big thing on the horizon will have its moment at the 2014 spectacular. You? All you need to do is put your costume together, fast. You've totally started building that already, right? The wings? The helmet? The glowing platform boots? Best get sewing, stat.
Copyright NBC Owned Television Stations