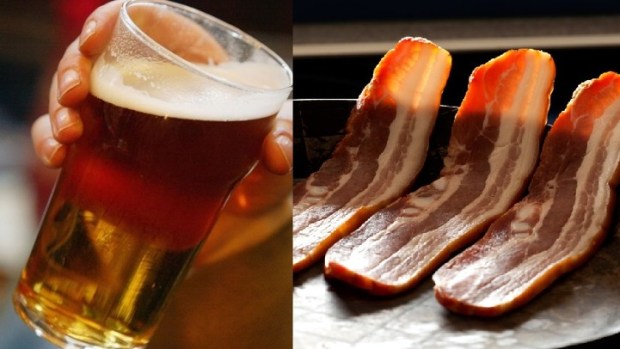 Beer and Bacon
Beer and bacon both will be celebrated during San Diego Beer Week.
UNLIKELY COMBO: What's the old adage? "If you can think it, it has been done" is the saying. If you can think of how jelly beans might taste in an omelet, someone has likely tried it. And beer and bacon? C'mon. That's hardly unusual anymore. Heck, people were probably going the beer and bacon route decades before both products started getting the word "artisanal" slapped on their labels. They're not uncommon products, and common products, especially when they're salty and sudsy, have a way of finding themselves on the same bill. As beer and bacon will be doing during San Diego Beer Week, which kicked off a few days back and runs right through Sunday, Nov. 13. The duo won't be making an appearance at every event, however, but they will be the stars of the Brewer's Dinner at Rock Bottom La Jolla on Saturday, Nov. 12. Most perfect dinner ever? It's a definite candidate.
OTHER HOPS-Y HAPS: A Karl Strauss Brewery tour, a Bikes, Boards & Brews gathering at the SD Tap Room, and a Sunday beer garden at the Brewers Guild. There are so many events going on in so many different pubs and places you'll want to go over every day of the schedule. That's no exaggeration. But whether you miss the bacon one or not is up to you. If you do, we're counting on you to recreate it at home. It's too tempting, right?