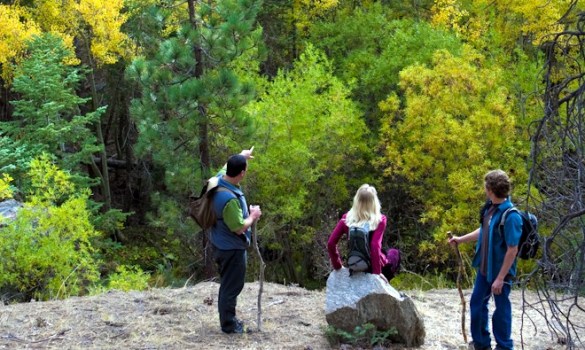 Big Bear
Want to see a little mountain-style foliage? Big Bear is kicking off a two-day lodging deal on Sept. 19. Book on the 19th or 20th -- or at least by 9 a.m. on Sept. 21 -- and get a great autumn room for 50% off.
AUTUMN UP THE MOUNTAIN: Sure, we can occasionally find a splendidly golden or red tree down near the beach or inland, but SoCalers looking for more traditional turn their eyes, and cars, toward our mountains. Big Bear is one traditional autumn destination for local leaf peepers, and we just got word that the community, and several stay-over spots, will be holding a lickety-split 48 hour book deal. The colorful upshot? Reserve a room at one of the participating inns or bed-and-breakfasts between Wednesday, Sept. 19 at 9 a.m. and Friday, Sept. 21 at 9 a.m. and get 50% off your stay. Will there be fine print? Of course, but there's a wide array of places that are part of the deal. It's also a notable sale, since the discounts happen during the town's leaf-peeping season, a time of year it tends to stay busy.
THINGS TO NOTE: The Big Bear Lake Resort Association, which is behind the sale, says this one is more wide-ranging than most discount deals, as it includes more types of lodging (cabin, rentals, lodges). Also worth noting: Oktoberfest is now happening each weekend in the village, if you can time your trip right. Call 800-424-4232 after 9 a.m. on Sept. 19 for place details and discounts, or check back at the Big Bear site for sudden details on this zippity-quick sale.