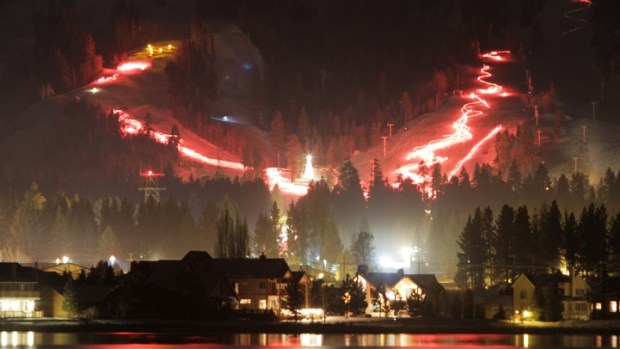 Snow Summit
Skiers glide down Big Bear's Snow Summit on Tuesday, Dec. 31, and in their hands? Pretty, light-up-the-night torchlight.
SEE YA, YEAR THAT'S DONE: The tried-and-true must-dos of New Year's Eve can be pretty comical. Oh, for sure, some of them are lovely, like getting a kiss at midnight (though, really, everyone in the room should get a kiss, in our book, just to be fair, because how fun is it to see a bunch of couples smooching while you stand swirling the ladle in the punch bowl, trying to look busy? Not much fun.) The pointy paper hats and noisemakers are good, too, though we always seem to get handed the stuck, won't-spin noisemaker. You too? Yeah. And then there's the balloon drop, the silver streamers, and the countdown, too. Many people, though not all, participate in one or some of these every December 31, but there is a colder, nighttime to-do which fewer people know about, or go to, but everyone should see at least once. It's the after-dark torchlight parade, and it can be found at ski resorts around the world. The upshot? Skiers schuss down a mountain, in a serpentine line, while hauling brightly lit torches. The effect? A glorious blaze of warm light on a very frosty night.
AND WHERE CAN YOU SEE SUCH A THING... in the Southern California area? It's true that places up the Sierra go the torchlight route, many of 'em, but our own Big Bear celebrates the light-up-the-night fete, too. And so the mountain burg shall again, on Tuesday, Dec. 31 when revelers on skis take some torches and cruise down Snow Summit. It's a fast and festive scene -- skiers go fast, you might have heard -- but one that'll stay with you. Tempted? It starts at 7 p.m., leaving you loads of time to return to your cabin for a closer-to-midnight celebration, pointy paper hats and noisemakers and all.