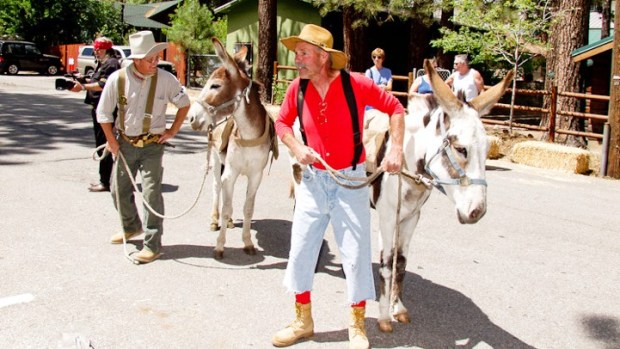 Old Miners Days
Old Miners Days in Big Bear is a mountaintop tradition. Anyone up for the Outhouse Races?
MOUNTAIN-TOP JAMBOREE: Some may claim that they start dreaming of a Big Bear weekend when those sweltering August days hit. Others like to think of it around January, when the skiing is fine and no one gives you a raised eyebrow if you choose to drink two cups of hot chocolate in a row. Us? We like to think of the mountain in high summer, before the swelter arrives in the low lands. That's because Old Miners Days arrives just about then, and as far as multi-day, oh-so-charming happenings go, it is pretty rootin'-tootin. We can say "rootin'-tootin'," right? Or was that just a cowboy saying? Aw shucks. We think it is indeed rootin' and tootin', with its costumed characters and its colorful happenings.
SUCH AS... Outhouse Races. That's up on Saturday, July 21 and, yep, teams'll have to build an outhouse to race. We should not that a bluegrass & country festival goes down up the mountain that same day, so if you like moving outhouses and hot fiddling, you know what to do. And a barn dance and chili cook-off land in Big Bear on Saturday, July 14.
NO COSTUME REQUIRED: Look, if you do have a miner get-up, complete with dusty chaps, wear it. But if not, just come as you are -- summer mountain casual -- and enjoy a few weekends of old-timey pleasure. You see, Big Bear? It isn't all about escaping the heat for us down below, nor do we only think about your winter snow. We like to party, 19-century-style, with you come July. Yeehaw and so forth