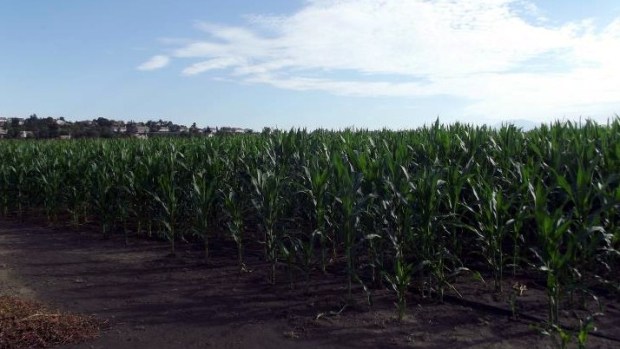 Big Horse Corn Maze
The annual corn maze at Big Horse Feed & Mercantile in Temecula'll finally debut on Saturday, Oct. 6.
MID-SEPTEMBER QUESTION: After the rush of stocking up for back-to-school needs, and actually going back to school, and then after the Labor Day barbecuing and the realization that Halloween candy is now taking over the aisles of the local drugstore, comes the inevitable question: When do the pre-Halloween autumnal activities start? We're not talking about the nighttime scare mazes, although those are due to arrive soon. Nope, we're talking about petting zoos and pumpkin patches and the always fun if slightly frustrating corn maze. But what would a corn maze be without its little frustrations? That's part of its singular charm, yes? Wandering around with a group while giving the leader a hard time for taking the wrong left turn? It's a fall tradition, in short, and it is return to Temecula, as it does every year, at the Big Horse Feed & Mercantile in Temecula. Opening date is Saturday, Oct. 6.
WHICH MEANS... That all of those ears of corn are busy growing -- that's what ears seem to do best, 'round this time of year -- with the ultimate aim of serving as a maze. Make that a maze with a patriotic theme; Big Horse has chosen Honoring Our Heroes as the 2012 banner, so look for aerial shots showing an image that fits that idea. It's billed as "Southern California's largest authentic corn maze" and covers 11 acres, meaning you and your friends'll have *plenty* of getting lost to do. And, with any maze worth its weight in cobs, there will be other activities, from pumpking buying to pony rides. Big Horse'll keep its maze open right through Halloween.