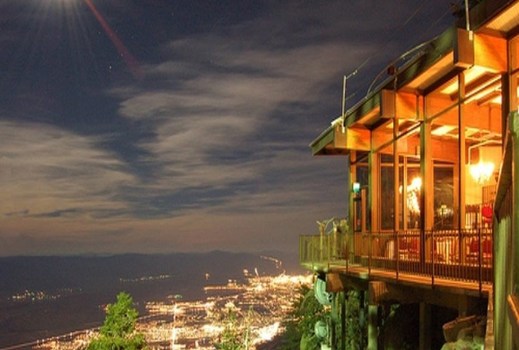 Palm Springs Aerial Tramway
You say you'd like Valentine's to be a bit unusual? Take the Palm Springs Aerial Tramway up the mountain by full moon.
ALL THE EXTRA TOUCHES: Life would be such a snap if it could play out like a scene from a musical. We're talking about the song where the lovebirds dance around an empty soundstage, and one of the dancers flick a spotlight on a hanging moon, or a painted sunset, or all of the above. But summoning such pretty touches can be a little trickier in the real world, and definitely on Valentine's Day, when people are on the lookout for whimsy, romance, and ways to treat their special guy or lady right. So when a full moon just happens to show up on Valentine's night, which it does every so often, well. You can almost feel as if you're in that musical, dancing, and you found the right light switch. But how to maximize such a beautiful sight? Sure, you and your honey can admire it after you go for a drink at the bar down the street. Or you can look at it through the window of a rotating tram, several thousand feet up, as the moonlight reflects off the cliffsides of a majestic mountain. No, that second option isn't fake and it isn't movie magic: It's the Palm Springs Aerial Tramway, which is running Valentine's night for dinner at the top.
PEAKS AND KISSES: The $39.95-per-person dinner at the Peaks Restaurant inside the tram's altitude-blessed Mountain Station will include a choice of shrimp and saffron risotto, petite filet or ravioli, plus other tasties like whoopee pie and a cheese platter. The tram ride up is extra, and the views? Sweeping and full of lights, including the big one in the sky. It'll be awhile before the full moon and Valentine's night have another lover's assignation, so if you desire a high-up, wowza-packed spot to view it from, and you want it on Feb. 14, head up the mountain by cable. But? Reservations are going, going, going.