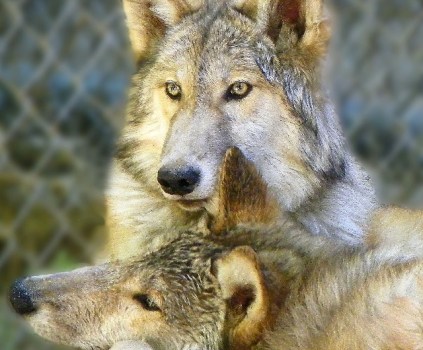 Moonridge Animal Park
The wolves who call Moonridge home will turn 2 on Saturday, April 9.
BIG BEAR BASH: Nine wolf pups were born at the Moonridge Animal Park at Big Bear Lake back in 2009, and the zoo is celebrating their birthday on Saturday, April 9. How does one honor a wolf's big day? There will be "birthday boxes" brimming with "wolf-goodies" for the birthday boys and girls. Mmm. Of course, a 2-year-old wolf is not a teeny little fur baby any longer; they're big, like 100-pounds big, although they still play in a way that reveals their youth. Would it be odd to apply the word "tween" to a wolf? Perhaps, but perhaps it is applicable. There'll be volunteers on hand to answer all your wolfy questions, and tell the story of the nine-strong, very popular Puppy Pack. The time is 11 a.m. to 2 p.m. on April 9.
MOONRIDGE ZOO: Bears, eagles, and owls also call the mountain-y park home. Read more about Moonridge's mission, and its wild denizens, and its Grizzly rescue. Oh, and its skunkly population, too. Props for skunks and their stripely, sometimes stinky ways. Admission to the park (and the wolf pups' party) is $9 general.