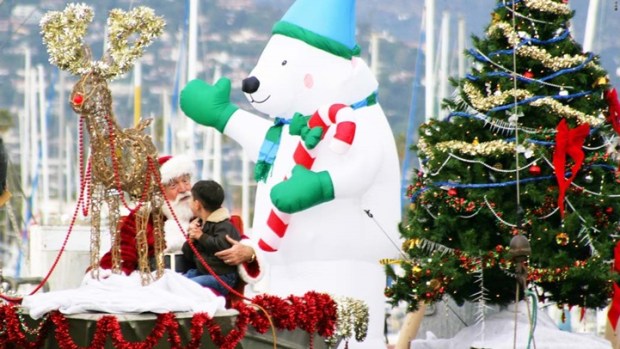 Santa Barbara Parade of Lights
Santa aboard a boat? It's a pretty coastal sight. If you're headed for Ventura, Santa Barbara, or Morro Bay, look for the lighted vessels on parade this holiday season.
SPARKLE X 2: Call it one of the first lessons of childhood: water reflects light. You might be in a pool or standing next to a puddle, and all of a sudden the light from the kitchen shimmers along the surface. We adults haven't forgotten that, but when it comes to maximizing holiday decorations and all-out seasonal beauty, we don't always use water elements to go for the maximum pow (especially if we don't happen to live near a small pond or fountain or lake). But boat owners? People who live on or near the ocean and row a kayak or pilot a yacht or steer a schooner? They get into the whole lights-on-water at Christmas time. So much so that several boat parades sail up and down the Golden State coast come December. (Okay, not the *whole* coast, which would take a heck of a long time for a kayak.)
INDEED... the grandparade of the bunch, the one that is 105 years old, is in Newport Beach each mid-December. But several other H20 processions occur in places along the coast, like Morro Bay, Santa Barbara, and Ventura. Morro Bay sails out on the evening of Saturday, Dec. 7. and we can only imagine that Morro Rock looks especially dramatic as it grows darker and the vessels' lights start to twinkle on. Santa Barbara's Pacific parade is the next day, on Sunday, Dec. 8, and there are fireworks to boot. Er, to boat? Yes. And Ventura's harbor-close celebration lands on Friday, Dec. 20 and Saturday, Dec. 21. It, too, has fireworks, as well as on shore holiday to-dos. Could you do every boat parade in California? Maybe, or you could come close, at least. Call it a special perk of living alongside a vast, ready-to-reflect body of water.