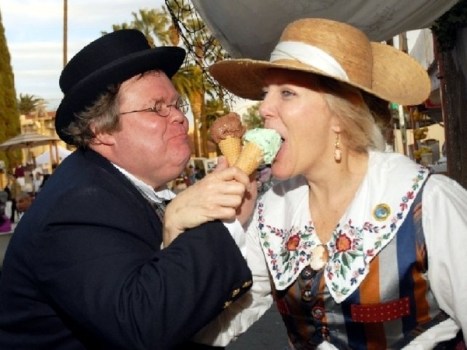 Riverside Dickens Festival
The 2011 Riverside Dickens Festival is Jan. 21-23.
THREE-DAY AFFAIR: When thinking of the annual, well-attended, well-costumed Riverside Dickens Festival, we think not of specific titles of the great author's books, nor of famous figures of the time. We think instead of our favorite line from a Dickens work, a line spoken by one Jacob Marley, in his ghostly form. "Mankind was my business," rattled Marley to Scrooge. Truly, few lines are as moving, or as fitting for a festive weekend celebrating the time of Dickens and his writing. The 2011 dates are Jan. 21-23.
"MANKIND" MAKES MERRY: Having fun with fellow book buffs is key to the not-at-all-stuffy weekend. There are parties, there's music, there are costumes, a lot of costumes, involving items like cravat squares and breeches. Queen Victoria herself makes a cameo -- of course! We wouldn't expect otherwise. And the 2011 book is "Barnaby Rudge." So let's all take Marley's words to our bosoms -- a fantastic Victorian term that definitely deserves a resurgence -- and celebrate together. It isn't exactly what Jacob Marley meant, we know, but gathering and celebrating can't be anything a lonely ghost would object to.