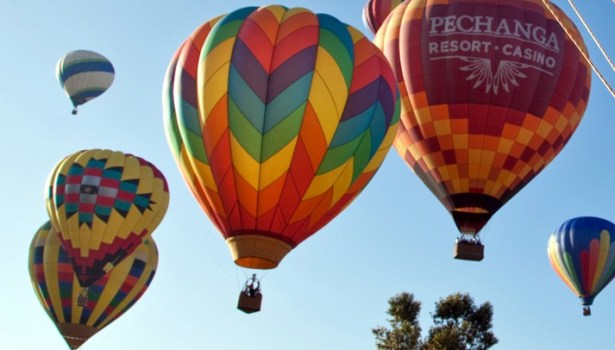 Temecula Valley Balloon and Wine Festival
Monte de Oro Winery will be holding two balloon breakfasts during the 2011 Temecula Balloon and Wine Festival.
COFFEE AND CLOUDS: When balloon glows and rocking concerts are on a schedule, one can be forgiven for thinking that the bulk of a multi-day bash will be happening during the later part of each day. And the Temecula Valley Balloon and Wine Festival, which is on from June 3 through 5, certainly has several happenings going down in the afternoon and evenings. But if you're a morning type, and you're looking to get some hot joe and vittles while watching the first ascension of the day, best look into making for Monte de Oro Winery. The vineyards will be doing two days of morningtime meals.
DINING DETAILS: The dates are Saturday, June 4 and Sunday, June 5. Breakfast starts at 7 a.m. each morning and wraps by 9:30. And you'll definitely want to make reservations. A general ticket is $34.95, but kids ages 3 to 10 can dine for $16.95.