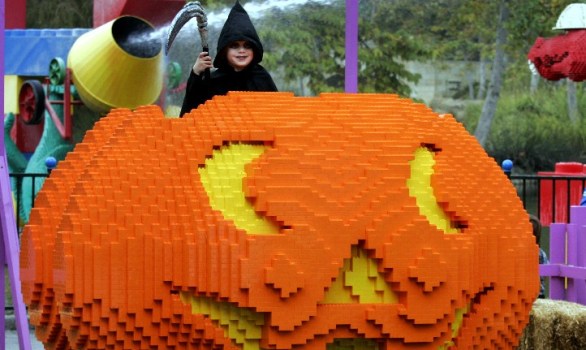 If it is a Saturday or Sunday during October, you can Brick-or-Treat at LEGOLAND in Carlsbad.
PLASTIC PUMPKIN: The plastic pumpkin is one of our very favorite parts of October's spookiest holiday. We're talking about the one with the black strap. The one that makes the thunk-thunk sound every time a neighbor drops another candy bar inside. You know of what we speak; you might have several from your own childhood still stacked in the back closet. But plastic pumpkin takes on a new, bigger, bolder meaning at LEGOLAND. The photo above? Yeah. It took a lot of small rectangles to make that creation. But a lot goes into Brick-or-Treat, the Carlsbad park's annual Halloween to-do.
SATURDAY SPOOKY: The festivities are on each Saturday during October, with some special happenings on Sunday (like the Halloween Trail being open). There's a costume contest on Saturday evenings (that's for goblins ages 12 and under) and fireworks each Saturday at 9 p.m. Can we also mention how we like there's a special "Star Wars" costume contest within the larger contest? Makes sense, what with all those Empire-y scenes at the park. For the other doings, and hopper pass information, peruse all things LEGOLANDia now.