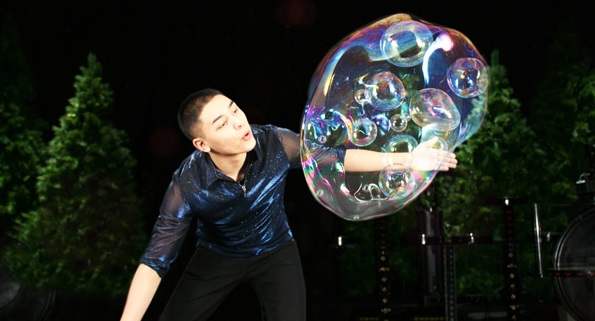 Bubblefest
Bubblefest bursts into being in Santa Ana on Thursday, March 28.
AIRY OUTING: Parents often joke that it is the stuff that just happens to be laying around the house that attracts kids' attention at playtime (and not the pricey toys stacked on a shelf in the den). A cardboard box or some string or some soap and water. That last combo is a perennial kid favorite, and something that has likely entertained kids since the invention of soap, water, and kids. Adults, too, love bubbles, because they do come with a hefty amount of science to them (think surface tension and such). But, yep, grown-ups like 'em for stuff beyond the science, like how iridescent they are, how delicate, and how they have a way of instantly lightening a mood, a backyard, or the summer sky. So put bubbles and humanity's enduring affection for them into a two-week show and what do you have? Bubblefest at the Discovery Science Center in Santa Ana.
SCIENCE AND WONDER: It's year seventeen for Bubblefest, which opens on Thursday, March 28 and runs through April 14. The staples will be there, like bubble-based shows and performances, as well as chances to make your own (and some truly large ones, too; over-sized wands are part of the fest). The laser show, which is ticketed separately from general admission, will feature smoking and spinning bubbles among other wonders. If you've seen "Oz The Great and Powerful," you may know that bubbles play a part; here's your moment to show the young'uns the science behind the magic.