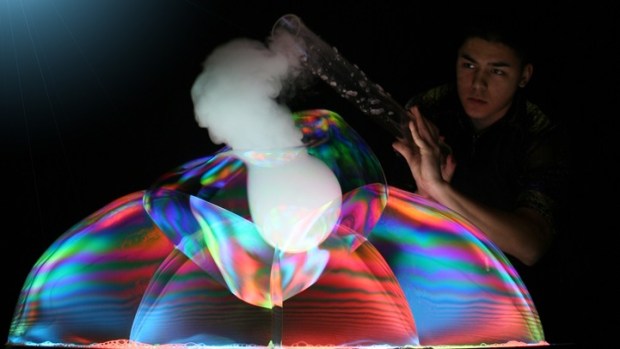 Discovery Science Center
"Our Most Popular Event": Bubblefest is back at the Discovery Science Center starting on Saturday, March 29.
IT'S NEARLY IMPOSSIBLE... to not weave the word "pop" into any discussion of the Discovery Science Center's hugely POPular mega POP culture-impacting spring treat, Bubblefest. See what we mean? The question is *how* many times will it be used in one write-up. We intend to limit ourselves, because bubbles don't need a lot of dressing up and joke-making. They're wonders, is why, total little treasures we can make ourselves, while standing over our kitchen sinks, at any time we'd like. But the bigger bubbles, and the shimmery orbs within shimmery orbs, are slightly trickier. Oh, sure, with some kitchen sink-close practice, you can probably get a little bubble inside a bigger one, but the beautiful thing, and difficult truth, about bubbles is they're brief. Your creation might not last long enough for family members to see it. Ah, but head for the Santa Ana science institution during its springtime bubbletastic exhibit and voila! You get your bubble practice in and you get to see masters of the form at work. Bubblefest XVIII opens on Saturday, March 29, and believe it: It is, indeed, the Discovery Science Center's "most popular event."
SOAPY DOINGS: The iridescent event runs from three weeks -- March 29 through April 20 -- and Bubble Scientist Deni Yang'll be back with his Mega Bubble Show. That's a separately ticketed event within Bubblefest, and way popular -- we mean, POPular -- so best get on your seats early. Also, the laser show falls at certain times during the day, too. When you're not wowing to that, head for the bubble-making stations and see if you can surround yourself only with walls made of pure airy soap. (Not too easy, but, wowza, what a sight if you can achieve it.) We do like an everyday object that can be created at home in seconds to get its bigger due. And the bubble? This is one of its splashiest shows anywhere. Yep, even a movie with popcorn -- we mean, POPcorn -- might not be as thrilling as a day standing inside a giant bubble, or trying to, at least.