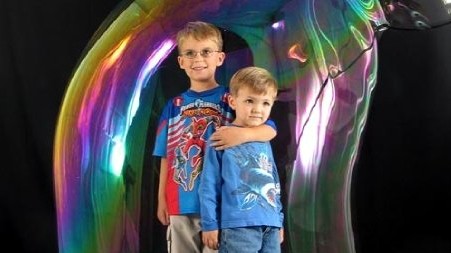 Discovery Science Center
Bubblefest XVI opens at the Discovery Science Center in Santa Ana on Saturday, March 31.
QUESTIONS: We always wonder how the sale of bubbles do, say, around a rainy week in January. Someone must be buying them -- they're not a seasonal item, at least in bigger stores -- and the idea cheers us. We need the happy bubbles and little plastic wands come our dreariest time of year, though we're doubtful bubble-blowing gets a lot of play during the days when people can see their breath outside. But, come springtime? It's like bubbles bottles and bubbles shooters and bubble wands get invented anew; they're everywhere. Including, we'll add, one of Southern California's loftiest kid-minded institutions. We're talking about the Discovery Science Center, and you know darn well we're talking about Bubblefest, which is so popular at the Santa Ana spot that 2012 marks its 16th year.
WHAT TO EXPECT: Well, bubbles. Yep. A lot of them. Both the bubbles we visitors can create and the iridescent orbs fashioned by artists who spend a lot of time practicing their bubbly arts. Deni Yang is that artist on this go around; look for smoking and spinning bubbles in his repertoire. Us? We like any bubble a person can stand inside. But, like the soapy, ethereal creation that inspired it, Bubblefest will float for only a little while before popping (read: going away for another year). It runs from Saturday, March 31 through Sunday, April 22.