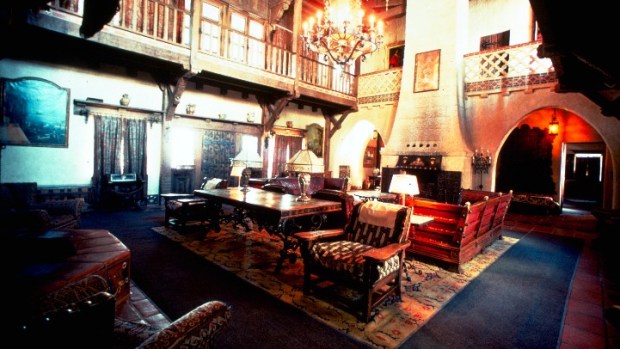 NPS
Scotty's Castle is a treasure of Death Valley. Poked around the '30s-pretty, tall-tale-y spot? It's definitely worth a toodle up through the arid national park.
THE FUNNY THING... about California's castles is this: They're either quite remote, and it takes real effort to reach them, or they're smack in the middle of everything. (A second funny thing is how often travel shows visit the four or five most famous, maybe due in part to the fact that "California's castles" is just so dang alliterative and nice to say.) There may be a castle or two -- and by "castle" we mean grand house or exceptional manor with a lively history, not an actual place where royals live -- that could be defined as existing in some sort of "middle place." Like a location that is neither full of hubbub nor far, far off the beaten path. But, really, when you think about it, how many castles show in the suburbs? Our opinion: They should, like, with turrets and all, but they do not. They're in far-off locals, like Hearst Castle, which is in San Simeon, on a high up hill. Or they're smack in the middle of Hollywood or Disneyland, like the Magic Castle and Sleeping Beauty's Castle. But the remotest of all the Golden State's castle-called structures is deep in Death Valley.
NATIONAL PARK LANDMARK: We speak, of course, of Scotty's Castle. Found near the northeasterly reaches of the park, not to far from the Ubehebe Crater, the castle has quite the storied history. The house was built by Albert Johnson in the 1930s but is nicknamed for Walter Scott, who said he built it with a mining money. Tall tales swirl around the place, as they often do with California's castles, and a heck of a lot of charm, too. Why go? Well, castles get busy come the holidays -- Hearst Castle and Sleeping Beauty's Castle both decorate -- but we desire some peace and solitude. Think of Scotty's as providing both, at least for the hour or so you're there. Plus, Death Valley in late fall. Nope, there are no maple trees, only deep rifts casting cosmic shadows. Experience that at least once.