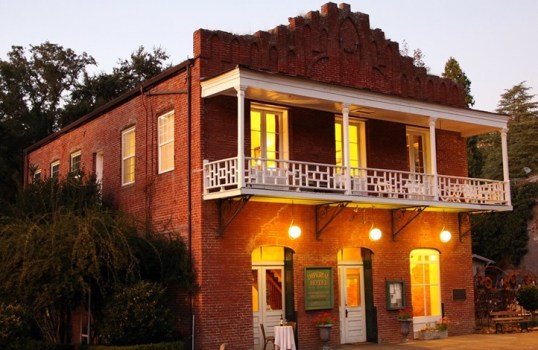 Imperial Hotel
The Imperial Hotel, built in 1879, is at the heart of Amador City. It's the smallest incorporated city in California, by area.
METROPOLIS MAJOR: Truth time. If you look at the front of any guidebook touting the wonders of the Golden State, and there are so very many, you're bound to see some landmarks from the state's major cities. We won't shout them out, but you know the ones. We love them, we do, but they get the lion's share -- or, um, bear's share, this being California -- of the spotlight. There are exceptions to the city-focused guidebook love, of course. The redwoods and Death Valley and the beaches are touted, too. But it is worth considering that there are dozens, nay, hundreds, oof, thousands of smaller towns around the state that all offer something interesting, historic, or quirky (and very often all three). With that in mind, we wanted to love on Amador City, a Gold Country burg with the notable distinction of being California's smallest city, when measured by area. Are you pre-charmed? Your head is in the right space, then. Amador City is wicked quaint, with a main street that is very ye olde and the picturesque Imperial Hotel. We'll love on it now, too, because November brings fall color and cooler temps and December? The oh-so-sweet Calico Christmas arrives in the 500-steps-across town.
NOW... are we being a bit colorful when we say Amador City is "500 steps across"? Of course. But we implore you to walk the length of the wood-and-brick-y town -- it won't take long -- and soak up the photo-ready buildings. Have dinner at the built-in-1879 Imperial, a spot Sunset magazine has doted upon, and visit the cemetery up the hill. And, if you can go wider, take in the area wineries, and head to Jackson, a bustling, Gold-storied town about 15 minutes to the south-southeast. Most of all, we recommend meditating on the concept of smallness for a good few minutes, while you stroll Amador City, and what it means in a state famed for sheer bigness, in all enterprises, sights, and dreams.