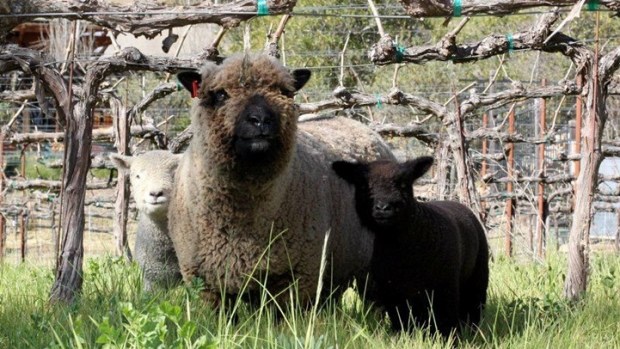 Calistoga Ranch
If it is March at Calistoga Ranch, the Babydoll Sheep must be on the grounds. They're the "organic lawnmowers" of the property, chomping away at grasses while charming guests to bits.
ANIMAL MASCOT: A number of hotels are associated with beautiful beasties. There might be an on-staff hotel dog, who greets guests in the lobby, or a cat who snoozes in an inn's back garden. Frogs from on-property ponds, butterflies, and birds have all made a showing in quirkier and cooler hotel brochures. But if we say "Babydoll Sheep" you say... Calistoga Ranch. You're right on the money, if that was your answer, because the fluffy springtime visitors are much associated with the elegant wine country getaway. Nope, the sheep don't arrive with the warmer days simply to lounge about the patio, watching the sunset. They're there to eat grass, something sheep rather like doing, and keep things looking trimmed while delighting guests who snap photos from a distance. And why the "Babydoll" designation? They stand at around two feet tall, meaning that vines are just out of reach of their chompers. No grape-growing branchery gets gnawed at, in short, while the grasses around the property do.
A EWE AND TWO LAMBS: A mother and two wee sheeplings arrived on Thursday, March 13 to enjoy the sunshine and nature at the bucolic property. They'll stay for around six weeks, supping upon lawn goodness to their fluffy-hearted content while skipping those famous Cabernet vines. Sounds pretty nice, to chillax and eat at a resort for six weeks in the springtime. Hey, Calistoga Ranch, we like wheatgrass shots. If we come up and snack on your adjacent wilderness, can we enjoy the grounds for a month and a half? Granted, our pelts are nearly as fluffy nor photographable. Okay, never mind; we'll stick to admiring the Babydolls during their annual visit to the wine country getaway.