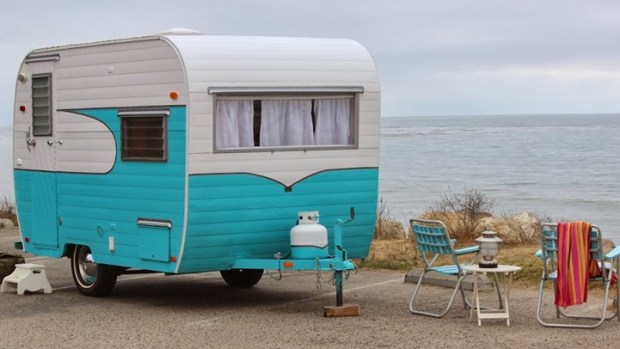 Santa Barbara Silver Safari
Want to rest-and-recreate like it's 1955? Santa Barbara Silver Safari can help you out with that.
WONDERS OF THE ROAD: What do you and your companions notice when you're out on the highway? Perhaps some stunning bluffs in the distance? A grove of tall trees near a rest stop? Thunderheads high over the mountains? Yes, and yes, and yes. Nature often catches our eye, and our deepest affections, when we're out on the asphalt, but there are a few items made by humankind that capture our fancy and become the topic of conversation. Take a beautiful, old-school convertible, or, say, an Airstream. Can the gleaming loafian trailer -- Airstreams are rather loaf-shaped, yes, in their quintessential way? -- pass a car full of history or road-culture mavens and not garner enthusiastic comment? No, it cannot. "I want an Airstream!" is the common cry, but owning one of the mid-century gems, or even walking inside one, is a treat not known to many. But vacationers who like to recreate, and do so with vintage panache, have a chance to live that dream, if just for a night, and camp in a beautiful Airstream from Santa Barbara Silver Safari.
TOW-IN, TOW-OUT: The company isn't just about serving the camping fantasies of enthusiasts who want a retro sleep experience. They rent to commercials and weddings and photo shoots, too. But a segment of its customer does desire that getaway night, meaning falling into REM sleep, and having your morning cereal, inside the loafy curves of an old-school hitch-up is a possibility. You'll need to take care of a few things, including reserving a camp site "with full hook-up" in Santa Barbara, Santa Ynez, or Ventura. There are a few other to-knows, and, you guessed it, some glossy Instagram photos to pore over. Is this the year you cease oohing and aahing over trailers that pass you on the road and start bragging to pals that you've stayed in one? This is one daydream that could totally come true.