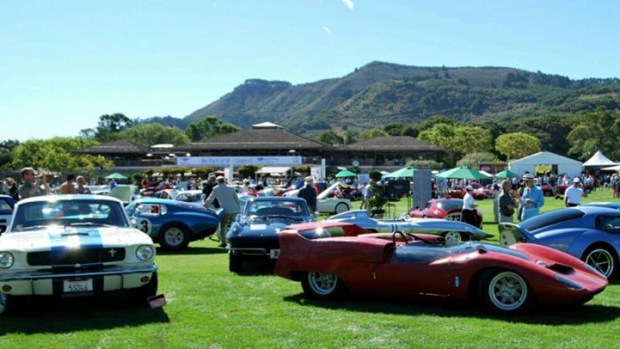 Monterey Car Week
Vintage wheels, tony wheels, and wheels of whimsy fill Monterey during Car Week. It vrooms from Monday, Aug. 11 through Sunday, Aug. 17.
SEEING SOMETHING "IN-CAR": The beauty of cinematic and television technology is that it can transport an image and audio over huge, earth-circling distances. (We hope we're not shaking anybody up with that rather unremarkable, everyone-knows-it revelation.) But for all that beauty we still want to see some things in this world in person. Or, to put it more poetically, we want to see an orca "in whale" and we'd like to see a redwood "in tree" and we'd like to behold Barcelona "in city" and we'd like to admire a Ferrari 250 Testa Rossa "in car." Seeing that particular vehicle "in car" -- and lots of other swank rides, too -- is a possibility if you find yourself in Monterey Bay during the middle of August. That's when some of the finest wheels ever to roll come to a gentle stop, as part of Monterey Car Week. It's an out-sized, fine-fender'd affair, with nearly as many moving parts as an engine in good working order, so finding the automobile you want to eye first seems key. But you can't beat starting at...
PEBBLE BEACH CONCOURS D'ELEGANCE: Well, one doesn't exactly "start" there since this affair is the prestige to-do that rounds out the week. But it is a must-do, if you like really, really, really fine cars. (Now we're wondering if three "reallys" is enough? Maybe.) Other happenings include a muscle cars show in Monterey on Thursday, Aug. 14, the Automotive Film and Arts Festival (also in Monterey on Aug. 14), and the charming and quirky Concours d'LeMons in Monterey on Saturday, Aug. 16 (you don't need to look too deeply at the name to guess the sort of character-packed cars you'll see). Just being in the area over the week means you're sharing road with auto enthusiasts who've come from all over, so here's hoping you finally see your dream machine "in car" and not simply in an ad or on a screen.