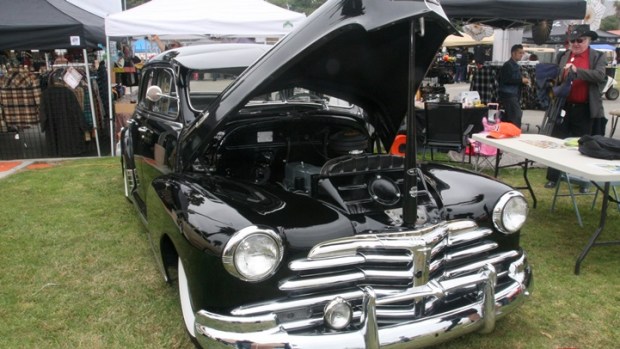 Roadshow Revival
Sweet cars and rockin' tunes are part of the Roadshow Revival. The mondo tribute to Johnny Cash is again scheduled for the Saturday of Father's Day Weekend. Tickets are on sale for the June 15, 2013 event.
FATHER'S DAY FUN: When can you rightly call something a tradition? In its second year, if the first year went very well? A lot of people might recommend waiting a bit, say, a half decade at least. That's exactly how long the Roadshow Revival has been around now, rockin' in the Father's Day weekend in Ventura with alt-country and old-school rockabilly. So, yes, let's call it a tradition since it has been around for five years, but more than that let's call it a Father's Day Weekend tradition. That's a holiday that doesn't seem to have the tried-and-true must-dos attached to it; some kids and their pop might go golfing, some to the movies, but nothing sticks out as especially Father's-Day-ish. Why not a vintage-cool concert with cars and the guitar-twang sounds that your dad might enjoy? (We won't assume, but many dads, and moms, and other people, often do.) Here's one better: Tell Dad that, at its heart, the Roadshow Revival fetes the memory of a legend: Mr. Johnny Cash.
A DAY OF TRIBUTE: The Roadshow Revival, which'll rock through Saturday, June 15, is very much about paying homage to the music of the country superstar. Artists like The Blasters, Junior Brown, and Big River are some of the acts that'll be on the stage playing both the music of Mr. Cash and their own works as well. Big-fin'd cars and plenty of Bettie-Page-pretty looks are part of the scene, too, at the Ventura County Fairgrounds. Tickets are $25. Oh, and again, this is the Saturday of Father's Day Weekend, so you and your papa can keep that Sunday free.