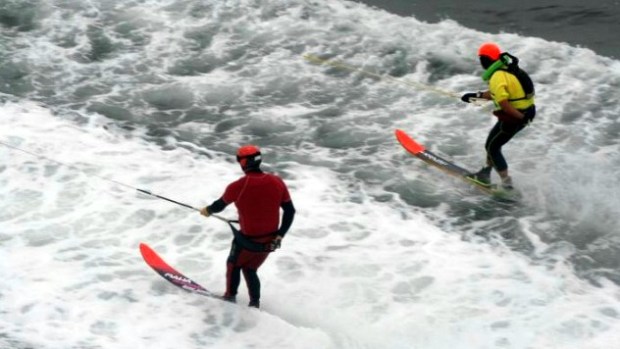 Sharman Racing
The Catalina Water Ski Race takes to the waves for the 63rd year on Saturday, July 21.
62 MILES: When you see scenes from friends water-skiing on a lake, the setting is, well, finite. Over there, on that shore? The boat house. In the other direction? There's the dock. A fun and active day can be had on skis out on the lake, of course, but nobody on a small body of water is going to head for more than a straight mile or two in any one direction. So, what can the enthusiastic water-skier do who wants to go in one constant direction for several miles? What is the answer for someone who wants to water-ski all the way from the mainland to an island? Why we're glad you asked. It's the 63-year-old Catalina Water Ski Race, which has a beautifully clear summary: Water-ski behind a boat from Long Beach to Avalon and then back. It's only 62 miles, round trip. Yes, we're being a bit cheeky there; we're of course agog at the athletic prowess that it takes to both handle a fast boat and ski behind that fast boat. And the Catalina Water Ski Race is set to spray foam again, on Saturday, July 21.
60 BOATS: Dozens of boats -- about 60 in all -- will leave Long Beach early on Saturday, head for Avalon, and return to the Queen Mary. The skiers will range from ages 12 to 70, says the site, and speeds can top out at around 70 MPH. And are there pre-race activities in the morning on the LBC side of things? There are, quite early in the morning, we'll add. For more on this epic water race and its six decades of going fast through one of California's busiest channels, check out the whole story at the main race site.