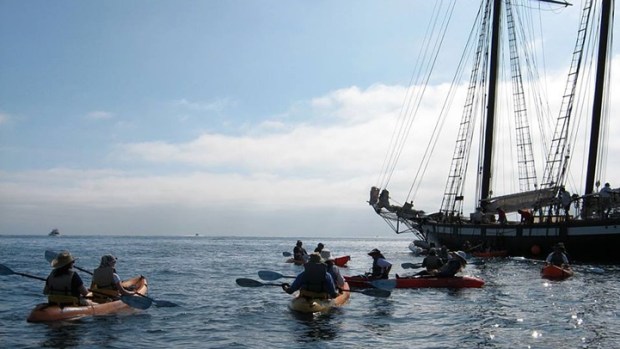 San Diego Maritime Museum
Board the San Diego-based tall ship Californian and head out for a week-long trip to the Channel Islands.
TALL SHIP LOVE: If you've ever ventured onto a tall ship, those mast-mighty vessels that speak of grand sea voyages and dashing escapades, then you've likely taken a turn at the helm, learned a few knots, and peeked into the captain's quarters. But then? Your hour is over with and you head back to land, having enjoyed a taste of something rather historic and wonderful. But what if you could stay aboard such a cinematic ship, for a week? Not in port but rather out on the ocean, making your way to an island chain that still looks very much like it must have when the boats that the modern tall ships pay tribute to really did crisscross the earth? It would be a bit of a time machine of sorts, and a true, roustabout adventure. Such a sailing event is set to skim the water in late July when the tall ship Californian leaves San Diego with one beautiful destination in mind (and on the maps): Channel Islands National Park.
DATES, DETAILS, KAYAKS: "This voyage departs the Maritime Museum of San Diego on July 23 and returns July 29, 2014." Catalina Island, Santa Barbara Island, and Santa Rosa Island will all be shiply stops "among others." And will passengers, who'll "haul lines" and "stand watch" during the time cresting the waves, do some sea kayaking, into painted caves and such? You bet, and there'll be lessons on that as well. Call it the exact kind of daydream people have when they're sitting in traffic: the ocean, a big ship, mysterious island caves, sea-strong skills. And, again, it won't be an hour aboard, or even a day then home upon the islands. It's a week, full of new learning, sunshine, seagulls, and the occasional curious marine mammal. Yep, this is dang daydreamy. The cost is $995, and there's a special on through June 12.