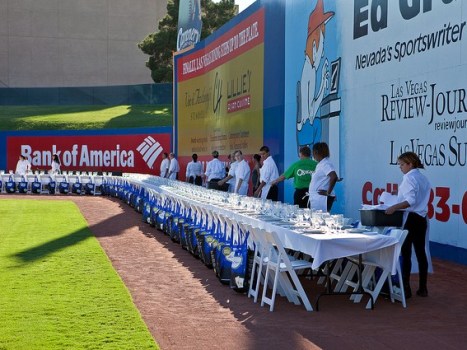 Project Dinner Table
Project Dinner Table's second season tickets are now on sale.
UNUSUAL VENUES: Take the top Las Vegas chefs, some locally loved purveyors of fresh food, some offbeat locales, and some very, very long dining tables, and what do you have? Project Dinner Table, the out-and-about Sin City supper series devoted to memorable meals. Season two tickets went on sale a few days back, and, after a glace at the coming venues, we think we're keenest on October's setting.
CASHMAN FIELD: It isn't often one gets to eat fine, just-cooked food on a baseball diamond, or very near, at least. The first dinner, which is on April 16, will be at Town Square. Regardless of location, though, bet the man or woman in the toque will be a talked-about foodsmith from one of the best hotels or restaurants in the area. It's a win-win-win-win sort of evening, when chef-setting-food-ambiance comes into play. Ticket details