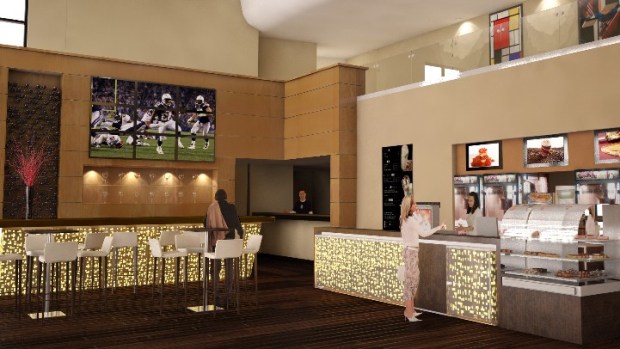 Cinépolis is now open in Del Mar.
A QUESTION: If you had to design the perfect luxury movie theater, what would you put in it? You can't choose having the star of the film sit next to you so he can share your popcorn (although, please, theater designers, keep this one up on the white board for the time being). You'd probably include fancy, smooshy seats (smooshy=comfortable for an hour+) and fancy, adult beverages (or just any unusual drinks, alcohol or no). Cinépolis recently debuted in Del Mar, and it has both of those things -- recliners and a bar -- plus other adds as well.
THOSE INCLUDE... "Gourmet finger foods" and "artisan sandwiches." For when you don't eat before your film but can't go the popcorn-for-dinner route. But here's the really interesting twist at Cinépolis; there's are movie previews available on touch screens located in the lobby. In case you and your pal are rowing over what to watch. Just click on the movies in question and make your decision based on the short clip. Or will that further stoke the row? Well, movie tiffing can be fun, if it doesn't get *too* heated.