worth the drive
Comic-Con Canines: Adopt a Superhero Dog
The Helen Woodward Animal Center visits the San Diego convention with pups in tow.
Thursday, Jul 24, 2014 • Updated 9:04 AM PDT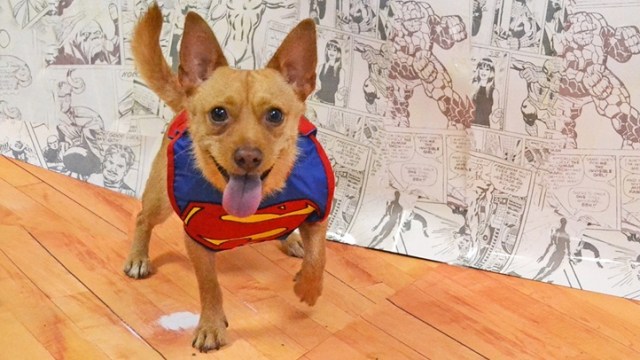 Helen Woodward Animal Center
It's "PAW-micon" time outside Comic-Con International in San Diego. The Helen Woodward Animal Center of Rancho Santa Fe will be in the Gaslamp Quarter looking for new homes for adoptable pups.
PUPS OFF THE PAGES: Comic books and cartoons and video games and films? They're packed with cape-sporting pooches who solve crimes and chase baddies and occasionally crack wise and boast a host of powers that are pretty remarkable for a pup (and, for that matter, a person). We're thinking of K-9 of "Doctor Who" and Ace the Bathound (of "Batman" fame, of course) and Krypto from the Superman mythos and Rex the Wonder Dog, a furry '50s favorite. We humans who live with animals know that they can't really leap tall buildings or take down menacing robots -- or CAN they, when we're not looking? -- but we also know that a dog has powers well beyond that. Love? Yes. Bringing happiness? For sure. The ability to lick our faces and cuddle in our arms and make a long day disappear, zap? Absolutely. Thus the fact that there'll be a "PAW-micon Convention" in San Diego's Gaslamp Quarter, courtesy of the Helen Woodward Animal Center of Rancho Santa Fe, fits as perfectly as a superhero's shiny tights. The center, which is known for the Surf Dog event in late summer and its Mardi Gras parade and Kentucky Derby to-do, among other offbeat happenings, will show with a host of dogs during the mega pop culture convention.
MAKE THAT ADOPTABLE DOGS: A few of the pups'll be in costume -- look for Bark Kent and Woof Vader -- but that's just the attention-getting cuteness. Nope, the adoption event is not affiliated with Comic-Con, but the animal-loving center wants to make a match between loving, caring humans and woofers who need homes, and that's that. So where can you find this goodness? Davis House Park in the Gaslamp on Friday, July 25 from 7 to 11:30 a.m. Even if you're not planning on adopting, the center is inviting Comic-Con attendees to swing by for a pet photo. What if you and one of the dogs were dressed as the same hero? We'd call that a little bit of muttly magic.
Copyright NBC Owned Television Stations