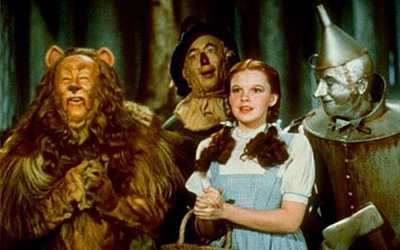 MGM
L. Frank Baum, the writer of "The Wizard of Oz," once called Coronado Island home. The shops of the island's throughfare celebrate that fantasy-filled heritage through Sunday, Aug. 10.
TOWNS OF FANTASY: There are many villages around the U.S. -- and a few larger cities, too -- that have strong ties to fictional characters. Or maybe fictional, let's say (we'd never cock an eyebrow over Bigfoot and all of those Northern California idylls he is said to call upon, nor Roswell and its cosmic visitors). But the Headless Horseman? Yep, he's a regular around Tarrytown, New York, or at least a figure seen on postcards and such. In fact, you could put your finger just about anywhere on the map and you'll probably be a hoot and a holler away from a place that has fictional connections. One of the biggies is in San Diego, on Coronado Island, and if you're wonder if the fantasy characters in question wear swimsuits and play at the beach, they do not. One wears ruby slippers, one a tin suit, one mostly straw, and two go the fur-only route. Yep, we speak of Dorothy, the Tin Man, the Scarecrow, the Cowardly Lion, and, not-least-though-he-may-be-last, Toto. "The Wizard of Oz" is Coronado's classic tale, thanks to being the one-time home of "Oz" author L. Frank Baum. And city shops are celebrating the burg's famous property through Sunday, Aug. 10.
HOW? Nope, Coronado's Main Street won't be paved with yellow bricks, but several shop windows will boast an "Oz" theme "built around original poster entries from the Oz Con Poster Contest." "Special menu items" will pop up, too, like the Coronado Brewing Company's Wicked Witch Bitter Ale. And you may see other Emerald City-like touches, from street pole banners to merch. Speaking of merchandise, have you been to the gift shop at Hotel del Coronado? No? And you're a fan of "The Wizard of Oz"? There's so much Dorothy going on there -- Dorothy and Marilyn Monroe. Oh, Coronado, you do charm the ruby slippers right off our feet.