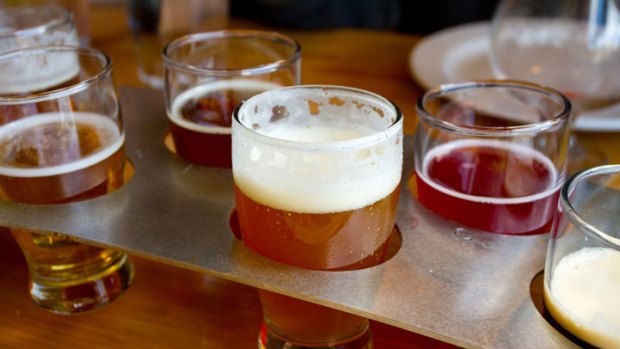 Shutterstock
San Diego Beer Week is more than a week long -- Nov. 1-10, 2013, to be exact -- but the "Beer" part of the name is right on: There'll be plenty of it, and it shall be tasty.
SO... remember in the spring of 2013, when CNN put out a list on the Best Beer Towns in America? Two Golden State cities sat cheek-by-jowl on the roster. (Or maybe "foamy-pint-glass-by-frosty-stein" is more appropriate.) San Francisco was the big #2 while San Diego? The Bay Area's immediate neighbor at #3. (Portland, Oregon nabbed the top spot.) A naysayer, perhaps jealous about his or her own town's lower ranking, might claim San Diego's success was a flash, but suds lovers know the truth: The city has been rising like a head of foam on its fast way to spilling down the side of a glass. San Diego's hops-flavored aspirations have met with success time and again over the last few years, from bespoke craft brewers to the robust November-time San Diego Beer Week. So robust is San Diego Beer Week that it actually extends beyond a week, well beyond. So beyond it takes up a tasty ten days, from Friday, Nov. 1 through Sunday, Nov. 10.
AND THOSE ELEVEN DAYS... will contain plenty-o-tavern-type specials and events -- over 600 in all, in fact -- but let's look first at the larger, stand-alone happenings with Beer Week. The San Diego Brewers Guild Fest is up first, on Nov. 1 and 2, and "50+ craft breweries from around the county" will be featured. That's on at Broadway Pier, at the Port Pavilion. Good stuff. A beer garden will also grow at the Lodge at Torrey Pines on Sunday, Nov. 10. If you've been to the Lodge, specifically the one of the outdoor dining areas, you know it deserves a trophy for the Best Ocean-Close, Golf Course-Adjacent Spot to Sip Beer in All the Land. Seriously, where's that medal? Take it, Torrey Pines. For all of the other bar-based Beer Week to-dos, and they are multi-mani-everything-fold, read on, sudsatarian. Read on.