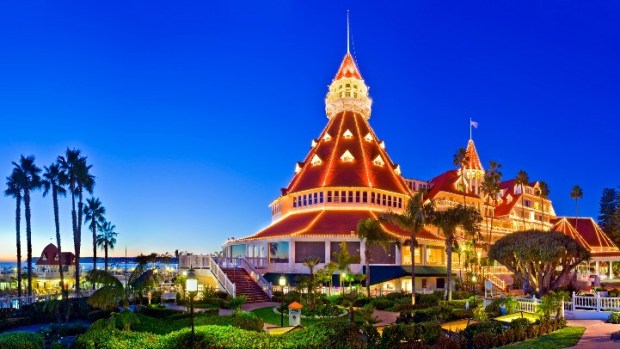 Darren Edwards
The Hotel del's Crown Room will go all out for Thanksgiving 2011.
HOTEL HOLIDAY: Enjoying the warm, pecan-y smells of Thanksgiving around the house is a pleasure, but going out for something feast-y and posh can be special as well. Oh, and there are no pans to soak afterward, either. We're sweet on both the home and hotel holiday meal, for sure, but if you're going to round up the family and go hotel and we say do it up big. Choose one of the grand dames -- we're thinking the Fairmont in San Francisco or Riverside's Mission Inn -- and go the whole nine, or ten, or twenty yards. Hotel del Coronado on Coronado Island will once again be going the twenty yards on Thanskgiving Day, and if you know the hotel, and you're thinking the dinner will be in the Crown Room, you'd be correct.
FAMOUS LIGHTING: We always have to start with the Crown Room's lighting because we love its backstory so much: L. Frank Baum, of "The Wizard of Oz" fame, designed it. Buffets brimming with seasonal staples will be set up, and live music will play, and kids'll be bedecked in their big-bow-iest best (we hope; we like to see the young'uns looking swell this time of year). Cost is $89.95 for adults, and if you want to see some ocean action during your meal, you can; the ballroom that faces the Pacific will also be open for seating. The Del, as it does every year, will have a bunch of other holiday haps going on, like Skating by the Sea, so see what else fits your calendar. If you want to pass out copies of "Oz" before you go, too, to all the kidlets, we'd applaud the effort.