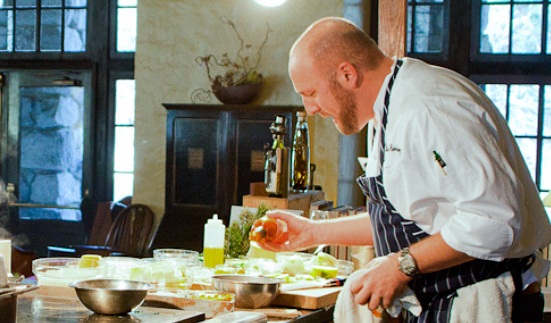 Chefs' Holidays
Stars of the stoves will be front-and-center at the Ahwahnee Hotel in Yosemite for Chefs' Holidays. They open on Sunday, Jan. 6.
CULINARY VACATION: There are few things more pleasurable for the home cook than a class on breads or sauces that takes place down at their local kitchen store. Spend an hour or two, learn about dough or various tasty oils, and then head home to try everything yourself. But there's a more luxurious version of this, which is the cooking vacation. You're not cooking per se, but you are watching notable restaurant stars at the stoves and bowls, and you're picking up tips. The bonus is you are not at home but rather in a gorgeous setting, a place where you can truly unwind and enjoy the sort of rest and relaxation that home doesn't always offer. The Chefs' Holidays at The Ahwahnee in Yosemite is one of the top examples of the culinary vacation. The wintertime gathering features a series of two- and three-day sessions focusing on a few dishes and a couple of major toques. They're bite-sized sessions, in short, but the takeaways are not; you learn a lot and you get to eat some truly magnificent cuisine.
DATES AND TIMES: The 2013 holidays will heat up the burners on Sunday, Jan. 6. The featured chefs hail from New York to San Francisco and beyond, and include Kim Alter of Oakland's Haven and the ladies of Cowgirl Creamery. (Mmm, Cowgirl Creamery.) And figure between the demos and the lessons and the hobnobbing with restaurant greats you'll have a little Ahwahnee-style vacation, which is plenty perfect in our book, especially when crowds are lighter. Pick your perfect session and eye the who's who of who is making for the valley.