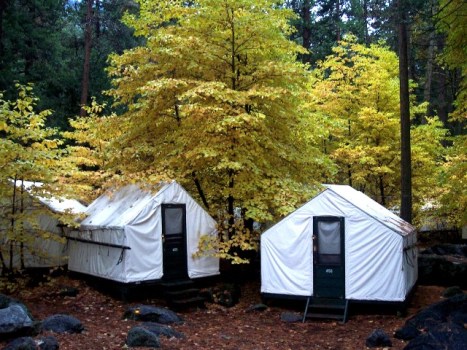 DNC Parks & Resorts
Curry Village has a Temp-RATE-ture deal on.
BRRRING IT: Well, this is equal parts fun, and not for everyone, but those hardy adventurers who are up for a chilly night and a story for their blog are likely the ideal match for this ch-ch-chilly special. The upshot: Book an unheated tent in Curry Village -- that's the pretty and historic clutch of tents beneath Yosemite National Park's Glacier Point -- and your rate will be based on the previous night's low temperature.
THAT'S FAHRENHEIT DEGREES: And here's the real kicker: If temps go below zero, DNC Resorts, which manages Curry Village, pays you to stay. There are to-knows, like where the temperature is collected (not the thermometer attached to your backpack), blackout dates, and the amount of deposit, and that sort of thing. Again. Unheated tent cabin. You'll want to be ready for this thing, right gear, right mind set, righty roo. But if you are, have fun, and stay toasty. As you can.